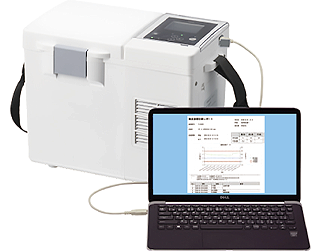 Portable constant temperature transfer device "Salm" capable of consistent constant temperature control
"Salm" is a portable constant temperature transfer device developed for specialty pharmaceuticals with different controlled temperatures depending on the product. The storage temperature is kept constant from the time of shipment from the distribution center to the site where the patient actually uses it, and the quality of pharmaceutical products is prevented from deteriorating due to temperature deviation.
* "Salm" is a registered trademark of Toho Holdings Co., Ltd.
Quality guaranteed by traceability
Data on the equipment status, such as the temperature from shipment to the site of use and whether the equipment has been opened or closed, can be recorded in the "Salm", proving that the quality of specialty drugs is guaranteed.
Reduce the risk of disposal of specialty medicines
Even if the specialty medicines stored in "Salm" are not used at the medication site, they can be delivered to other sites again with "Salm" if they are not taken out from the device, and expensive specialty medicines can be effectively used.